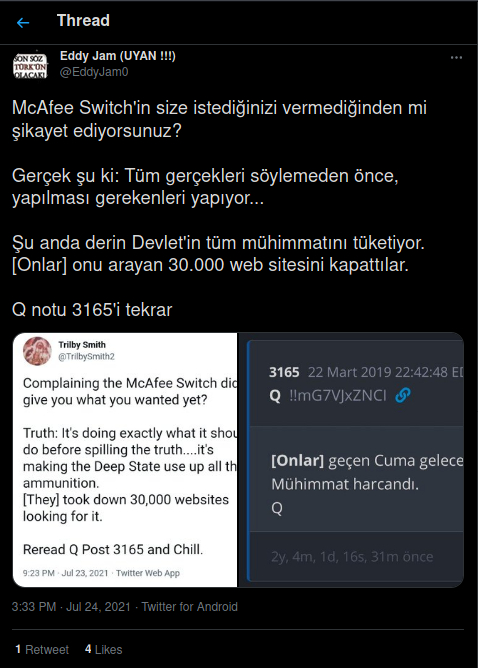 The military-industrial-complex is busy lying to the people again; this time: TRUST THE PLAN MAN Q SAID SUMMIN BOUT' MCAFEE'S DEAD MAN SWITCH NAW IM SAYIN YEAH DAWG WE CAN'T BE LIED TO ENOUGH.
The idea that Q has a grip on all things like "WOW MAN THIS ANONYMOUS POSTER WHICH IM PRETTY SURE IS Q SAID SOMETHING ABOUT MCAFEE WOW MAN Q KNOWS EVERYTHING GEE WE ARE SO LUCKY TO HAVE Q"
Keep scratching your lottery tickets and sniffing your finger-picking ass you damned idiots.
McAfee surely had a dead-man switch but who had the balls to follow-thru on it is the question.
McAfee was smart enough to know there is no magical secret government from within the halls of Washington D.C. coming to save us.
The Q people need to STFU and let the adults figure things out.
Of course we know Q really is ONLINE COVERT ACTION which is one motivation that inspired the ONLINE COVERT ACTION ALLIANCE to expose the subterfuge army at war against free humanity: https://war.coffee/online-covert-action-alliance/
Oh yeah and do not do anything at all just sit back and trust the plan Q is going to wipe your ass for you and make the sun rise and set.