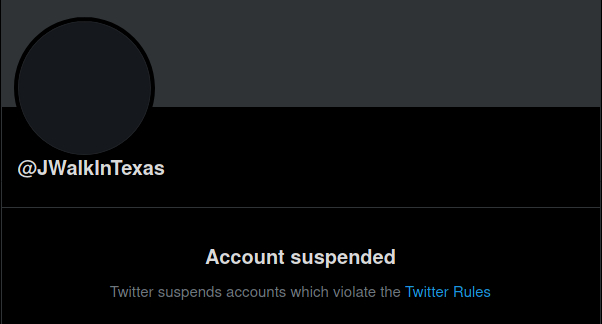 F for @DareDevilNTexas
F for @JWalkNTexas
F for @JWalkInTexas
Will reveal new account soon.
This happened right after @CassandraRules retweeted me three times in a row within a very short period of time. I am not famous so Twitter hopes for me to go away quietly into the night. What the controllers do not realize is we are growing louder; our technology more sophisticated; and our momentum much stronger, faster, and harder. I earned all of my blue-checks and patriots following me as I influenced the twitter-verse. Right as my account starts to really break-out Twitter gives me the slap. It only adds to the Streisand effect. I have been an activist for almost twelve years now. The enemy would hate for the real activists to not be in a filthy prison and to take the reigns as the lead account over these plush-toy nobodies like Agent So-And-So. Let us hope to meet again and hope that this wild-man is welcomed with rejoice on Twitter again. I cannot share my plans for war.coffee but know that I will never Epstein myself and my plans are exceeding Victory over this growing and present tyranny. I just awoke at 1A.M. to start my Thursday and sat down to find out the news about John McAfee and admittedly burst into tears for one of my fallen heroes. R.I.P Good brother. May we meet on the other side. And May our Lord Jesus Christ warmly take one of His into the Kingdom of the Most High. Prayers to Mrs. McAfee, the McAfee team, and patriots around the world as we do what some will call the impossible and overthrow the tyranny.
This is the information war.
UPDATE: Follow my new Twitter account: @JeremyWalkerTX