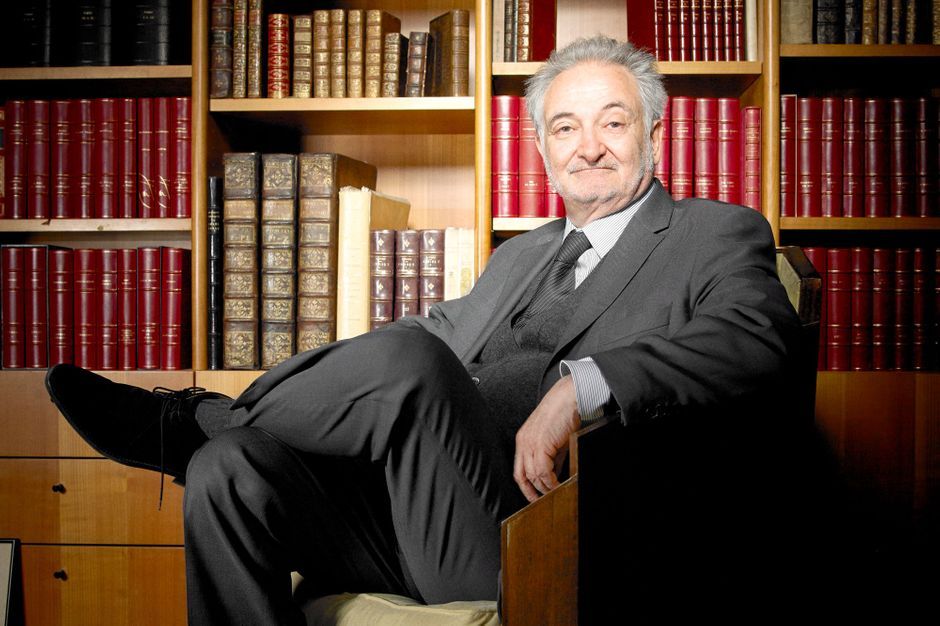 A quote from Jacques Attali was recently dredged up from history:
The future will be about finding a way to reduce the population. We start with the old, because as soon as they exceed 60-65 years, people live longer than they produce and that costs society dearly. Then the weak, then the useless that do not help society because there will always be more of them, and above all, ultimately, the stupid. Euthanasia targeting these groups; Euthanasia will have to be an essential tool in our future societies, in all cases. Of course we will not be able to execute people or build camps. We get rid of them by making them believe that it is for their own good. Overpopulation, and mostly useless, is something that is too costly economically. Socially, too, it is much better when the human machine comes to an abrupt standstill than when it gradually deteriorates. Neither will we be able to test millions upon millions of people for their intelligence, you bet that! We will find or cause something a pandemic targeting certain people, a real economic crisis or not, a virus affecting the old or the fat, it doesn't matter, the weak will succumb to it, the fearful and stupid will believe in it and seek treatment. We will have made sure that treatment is in place, treatment that will be the solution. The selection of idiots then takes care of itself: You go to the slaughter by yourself.

The Future of Life – Jacques Attali interviews with Michel Salomon, Les Visages de l'avenir collection, éditions Seghers, 1981
Alex Jones of infowars.com and banned.video delivered his analysis of the quote in the video below (13m 59s):
Listen to this 1982 recording of former undercover FBI Agent Larry Grathwohl expose the Ivey-League globalist plan to mass-murder twenty-five million American citizens (2m 20s):
A unified depopulation agenda is underway.
There is a single theme behind all our work-we must reduce population levels. Either governments do it our way, through nice clean methods, or they will get the kinds of mess that we have in El Salvador, or in Iran or in Beirut. Population is a political problem. Once population is out of control, it requires authoritarian government, even fascism, to reduce it.

Thomas Ferguson, MIT graduate, University of Texas at Austin graduate
Adding a sterilant to drinking water or staple foods is a suggestion that seems to horrify people, most – than most proposals for involuntarily fertility control.

John Holdren, MIT graduate, Stanford graduate, Harvard Professor, Berkeley Professor, Director of the Office of Science and Technology Policy under President Barrack Hussein Obama (President Obama: who, in my view, stole the 2012 election from Congressman from Texas: Ron Paul the same way Biden's "most extensive voter fraud organization" stole the election from Trump)
Watch the video of Joe Biden brag:
Secondly, we are in a situation where, we have put together, and you guys, uh, did, did it for our adminis…the President Obama's Administration before this; we have put together I think the most extensive and inclusive voter fraud organization in the history of American politics.

Joe Biden, posted to Instagram 24 October 2020
The Planetary Regime might be given responsibility for determining the optimum population for the world and for each region and for arbitrating various countries' shares within their regional limits. Control of population size might remain the responsibility of each government, but the Regime would have some power to enforce the agreed limits.

John Holdren, MIT, Stanford University
The development of a long-term sterilizing capsule that could be implanted under the skin and removed when pregnancy is desired opens additional possibilities for coercive fertility control. The capsule could be implanted at puberty and might be removable, with official permission, for a limited number of births.

John Holdren
Childbearing should be a punishable crime against society, unless the parents hold a government license. All potential parents should be required to use contraceptive chemicals, the government issuing antidotes to citizens chosen for childbearing.

David R. Brower, Berkeley, President of the Sierra Club Foundation, Founder of Friends of the Earth, Earth Island Institute; A monument, Spaceship Earth, was erected in his honor at Kennesaw State University. The monument is meant to serve as a reminder to future generations about the precious nature of the planet
A total population of 250-300 million people, a 95% decline from present levels, would be ideal.

Ted Turner, Founder of CNN, Brown University graduate
War and famine would not do. Instead, disease offered the most efficient and fastest way to kill the billions that must soon die if the population crisis is to be solved. AIDS is not an efficient killer because it is too slow. My favorite candidate for eliminating 90 percent of the world's population is airborne Ebola (Ebola Reston), because it is both highly lethal and it kills in days, instead of years. … We've got airborne diseases with 90 percent mortality in humans. Killing humans. Think about that. … You know, the bird flu's good, too. For everyone who survives, he will have to bury nine.

Eric Pianka, Professor of Integrative Biology, at University of Texas at Austin, Carleton College graduate, University of Washington graduate, University of Western Australia graduate, Doctor Doom, Eric Pianka, Receives Standing Ovation from Texas Academy of Science After Calling For Global Genocide
Watch Tucker Carlson interview Eric Pianka about his comments in 2006 (4m 47s):
Depopulation should be the highest priority of foreign policy towards the third world, because the US economy will require large and increasing amounts of minerals from abroad, especially from less developed countries.

Henry A. Kissinger, Harvard graduate
U.S. policy toward the third world should be one of depopulation.

Henry A. Kissinger
The illegal we do immediately. The unconstitutional takes a little longer.

Henry A. Kissinger
In order to stabilize world population, we must eliminate 350,000 per day … Today, we are witnessing the atrocious results of this dynamic, as people around the world are participating in the plot with their chosen governments to exterminate large numbers of society by their cooperation, support, indifference, and especially their silence

Jacques Yves Cousteau, Collège Stanislas graduate
We must speak more clearly about sexuality, contraception, about abortion, about values that control population, because the ecological crisis, in short, is the population crisis. Cut the population by 90% and there aren't enough people left to do a great deal of ecological damage.

Mikhail Gorbachev, Nobel Peace Prize, Moscow State University graduate, Communist Party leader, first recipient of the Ronald Reagan Freedom Award, awarded the Grand-Cross of the Order of Liberty by Portuguese President Mário Soares, the Freedom Award from the National Civil Rights Museum in Memphis, Tennessee, Golden Plate Award of the American Academy of Achievement at an awards ceremony at Hampton Court Palace near London, Freedom of the City of Dublin from Dublin City Council, awarded the Charles V Prize by the European Academy of Yuste Foundation, together with Bill Clinton and Sophia Loren, were awarded the 2004 Grammy Award for Best Spoken Word Album for Children for their recording of Sergei Prokofiev's Peter and the Wolf for Pentatone, awarded the Point Alpha Prize
One-fourth of humanity must be eliminated from the social body. We are in charge of God's selection process for planet Earth. He selects, we destroy. We are the riders of the pale horse, Death.

Barbara Marx Hubbard, Dalton School NYC graduate, L'Ecole des Sciences Politiques at La Sorbonne in Paris, Bryn Mawr College graduate
The common enemy of humanity is man. In searching for a new enemy to unite us, we came up with the idea that pollution, the threat of global warming, water shortages, famine and the like would fit the bill. …The real enemy then is humanity itself.

Aurelio Peccei, University of Turin graduate, University of Paris, co-founder and first president of the Club of Rome, ANTIFA terrorist in WWII "Giustizia e Libertà," principal founder of the International Institute for Applied Systems Analysis
My three main goals would be to reduce human population to about 100 million worldwide, destroy the industrial infrastructure and see wilderness, with it's full complement of species, returning throughout the world.

David Foreman, San Antonio Junior College, University of New Mexico, "prominent member" of the Radical Environmentalist "movement", co-founder of "Earth First!", undesirable discharge from Marine Corps' Marine Officer Candidates School in Quantico, Virginia after 61 days, Sierra Club's board of directors,
I believe that human overpopulation is the fundamental problem on Earth Today and, we humans have become a disease, the Humanpox.

David Foreman
In the event that I am reincarnated, I would like to return as a deadly virus, in order to contribute something to solve overpopulation.

Prince Philip, British royal family, born into Greek and Danish royal families
If a Black Death could be spread throughout the world once in every generation survivors could procreate freely without making the world too full.

Bertrand Russell, Trinity College, Cambridge, London School of Economics, University of Chicago, UCLA
Society has no business to permit degenerates to reproduce their kind. It is really extraordinary that our people refuse to apply to human beings such elementary knowledge as every successful farmer is obliged to apply to his own stock breeding. Any group of farmers who permitted their best stock not to breed, and let all the increase come from the worst stock, would be treated as fit inmates for an asylum. Yet we fail to understand that such conduct is rational compared to the conduct of a nation which permits unlimited breeding from the worst stock, physically and morally, while it encourages or connives at the cold selfishness or the twisted sentimentality as a result of which the men and women who ought to marry, and if married have large families, remain celebates or have no children or only one or two. Some day we will realize that the prime duty, the inescapable duty of the good citizen of the right type is to leave his or her blood behind him in the world! and that we have no business to permit the perpetuation of citizens of the wrong type.

Theodore Roosevelt in his 1913 letter to Charles B. Davenport
I said this for apartheid South Africa, I said this for my own community in the South — there are still generations of people, older people, who were born and bred and marinated in it, in that prejudice and racism, and they just have to die.

Oprah Winfrey
The year 2100 will see eugenics universally established. In past ages, the law governing the survival of the fittest roughly weeded out the less desirable strains. Then man's new sense of pity began to interfere with the ruthless workings of nature. As a result, we continue to keep alive and to breed the unfit. The only method compatible with our notions of civilization and the race is to prevent the breeding of the unfit by sterilization and the deliberate guidance of the mating instinct. Several European countries and a number of states of the American Union sterilize the criminal and the insane. This is not sufficient. The trend of opinion among eugenists is that we must make marriage more difficult. Certainly no one who is not a desirable parent should be permitted to produce progeny. A century from now it will no more occur to a normal person to mate with a person eugenically unfit than to marry a habitual criminal.

Nikola Tesla, February 9, 1935 issue of Liberty magazine
With savages, the weak in body or mind are soon eliminated; and those that survive commonly exhibit a vigorous state of health. We civilised men, on the other hand, do our utmost to check the process of elimination; we build asylums for the imbecile, the maimed, and the sick; we institute poor-laws; and our medical men exert their utmost skill to save the life of every one to the last moment. There is reason to believe that vaccination has preserved thousands, who from a weak constitution would formerly have succumbed to small-pox. Thus the weak members of civilised societies propagate their kind. No one who has attended to the breeding of domestic animals will doubt that this must be highly injurious to the race of man. It is surprising how soon a want of care, or care wrongly directed, leads to the degeneration of a domestic race; but excepting in the case of man himself, hardly any one is so ignorant as to allow his worst animals to breed.

The aid which we feel impelled to give to the helpless is mainly an incidental result of the instinct of sympathy, which was originally acquired as part of the social instincts, but subsequently rendered, in the manner previously indicated, more tender and more widely diffused. Nor could we check our sympathy, if so urged by hard reason, without deterioration in the noblest part of our nature. The surgeon may harden himself whilst performing an operation, for he knows that he is acting for the good of his patient; but if we were intentionally to neglect the weak and helpless, it could only be for a contingent benefit, with a certain and great present evil. Hence we must bear without complaining the undoubtedly bad effects of the weak surviving and propagating their kind; but there appears to be at least one check in steady action, namely the weaker and inferior members of society not marrying so freely as the sound; and this check might be indefinitely increased, though this is more to be hoped for than expected, by the weak in body or mind refraining from marriage.

Charles Darwin, The Descent of Man
I could show fight on natural selection having done and doing more for the progress of civilization than you seem inclined to admit. Remember what risk the nations of Europe ran, not so many centuries ago of being overwhelmed by the Turks, and how ridiculous such an idea now is! The more civilised so-called Caucasian races have beaten the Turkish hollow in the struggle for existence. Looking to the world at no very distant date, what an endless number of the lower races will have been eliminated by the higher civilized races throughout the world.

Charles Darwin
Of all the problems which will have to be faced in the future, in my opinion, the most difficult will be those concerning the treatment of the inferior races of mankind.

Leonard Darwin
My firm conviction is that if wide-spread Eugenic reforms are not adopted during the next hundred years or so, our Western Civilization is inevitably destined to such a slow and gradual decay as that which has been experienced in the past by every great ancient civilization. The size and the importance of the United States throws on you a special responsibility in your endeavours to safeguard the future of our race. Those who are attending your Congress will be aiding in this endeavour, and though you will gain no thanks from your own generation, posterity will, I believe, learn to realize the great dept it owes to all the workers in this field.

Leonard Darwin
Markedly defective individuals (of the Great Race) were quickly disposed of as soon as their defects were noticed. Disease and the approach of death were, in the absence of a sense of touch or of physical pain, recognised by purely visual symptoms.

H.P. Lovecraft, from his book The Shadow Out of Time; Lovecraft is "one of the most significant 20th-century authors of supernatural horror fiction"
Soon it will be a sin of parents to have a child that carries the heavy burden of genetic disease. We are entering a world where we have to consider the quality of our children.

Robert Edwards, Nobel Prize Winner
Let me issue and control a nation's currency and I care not who writes the laws.

Mayer Amschel Rothschild
The time has already come when each country needs a considered national policy about what size of population, whether larger or smaller than at present or the same, is most expedient. And having settled this policy, we must take steps to carry it into operation. The time may arrive a little later when the community as a whole must pay attention to the innate quality as well as to the mere numbers of its future members.

John Maynard Keynes, director of the British Eugenics Society, helped to set up the Bretton Woods system, called for a global currency and world central bank, seat in the House of Lords as "Baron Keynes, of Tilton, in the County of Sussex," atheist, Eton College, King's College Cambridge, University Pitt Club, Cambridge Apostles society, President of the Cambridge Union Society, President of the Cambridge University Liberal Club, aided the British government in World War I, financial representative for Her Majesty's Treasury, appointed Companion of the Order of the Bath, appointed Officer of the Belgian Order of Leopold, Court of Directors of the Bank of England, favourable mention by later investors such as Warren Buffett and George Soros, lifelong member of the Liberal Party, vice-chairman of the Marie Stopes Society, he had no children; excerpt from The End of Laissez-Faire, 1926
Eugenics is the most important, significant and, I would add, genuine branch of sociology which exists.

John Maynard Keynes
The way of nature has always been to slay the hindmost, and there is still no other way, unless we can prevent those who would become the hindmost being born. It is in the sterilization of failures, and not in the selection of successes for breeding, that the possibility of an improvement of the human stock lies.

H. G. Wells
Every single case of inherited defect, every malformed child, every congenitally tainted human being brought into this world is of infinite importance to that poor individual; but it is of scarcely less importance to the rest of us and to all of our children who must pay in one way or another for these biological and racial mistakes.

Margaret Sanger, The Pivot of Civilization, 1922
Society must concern itself not chiefly with the isolation, temporary or permanent, of the individual murderer, thief, or forger, but with the extermination or repair of the genetic, educational, or industrial defects which cause the production of criminals.

Charles Eliot, The New York Times, December 28, 1915
It is better for all the world, if instead of waiting to execute degenerate offspring for crime, or to let them starve for their imbecility, society can prevent those who are manifestly unfit from continuing their kind….Three generations of imbeciles are enough.

U.S. Supreme Court Justice Oliver Wendell Holmes Jr., Buck v. Bell, 1927
Please share the information in this article to warn the human population of mankind's most Satanic predators.
Watch this powerful documentary which exposes the shadowy globalists, their names and faces, and their plan to genocide mankind (2h 19m 30s):