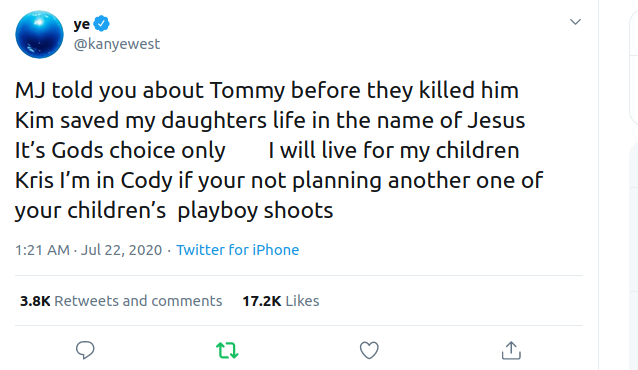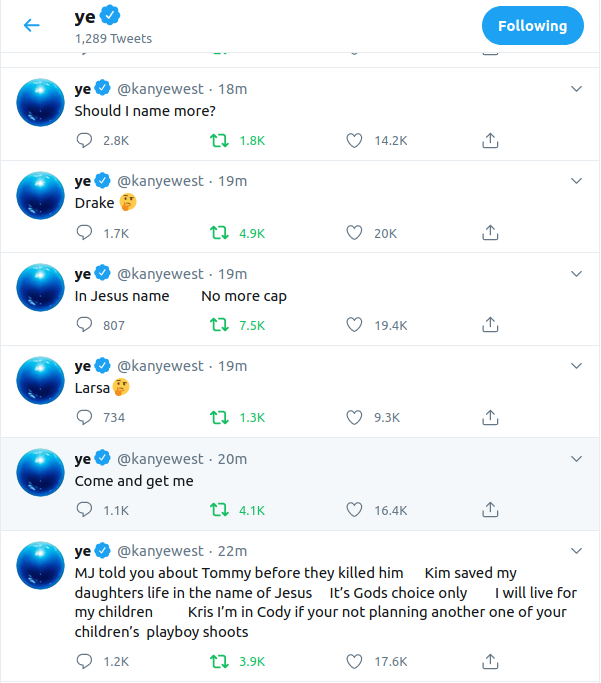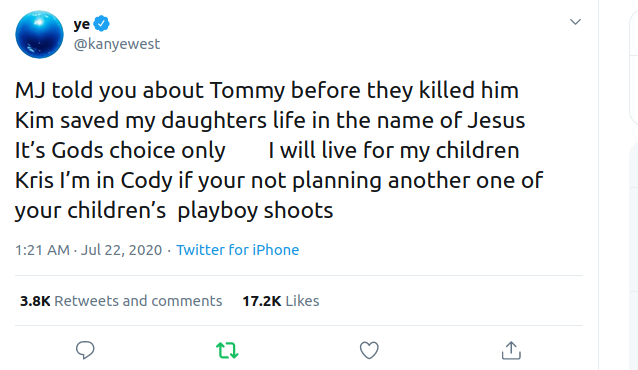 In the now deleted tweets (deleted by Mr. West) Kanye West testifies against top Hollywood pedophiles over their Chrissy-Tiegen-style "children's playboy shoots."
Any rational thinker will ascertain that the use of children in pedophile parties would surely not end with a photo shoot with so much evidence circulating about Satanic blood-ritual sacrifices of children.
Most concerning: this issue raised by Mr. West has received virtually zero national coverage or attention from Conservatives who are otherwise infamous for stoking the flames required to burn the career of Hollywood pedophiles to the ground.
Mr. West boldy states, "Come and get me;"–an assertion implying that the named and unnamed career-pedophiles would kill Mr. West to protect their name and He would gladly stand as the hedge for the innocent and his own life against the Satanic hunters of true innocence.
Should I name more?

Kanye West, 22 July 2020
Mr. West names Kris Jenner, Drake, Larsa Pippen, and had suggested in previous tweets that his wife Kim wanted to induct his children into these same pedo parties.
Speculation as to why why Mr. West would expose such visible people including his own wife were quashed with the revelation that Mr. West himself had recently sought divorce from his wife Kim, who, to protect her vain and pomp socialite agenda, had succeeded once and would once again attempt to lie over and wrong Mr. West or even kidnap, and presumably have him killed or rendered into a medical coma (who will reveal the end means of Christian persecution except death itself?), and lock him into a mental institution for the rest of his life for simply professing his faith in Jesus Christ and signalling his support for President Donald John Trump.
These earth-shaking events unfold amid the heels of Mr. West running for President as a growing anarchy burns American cities and attacks police (while MSM declares the violent anarchists 'peaceful protesters') including Portland, Seattle, and New York City by professionally backed anarcho-communists disguised as groups named Antifa and BLM who are clearly the same Daesh, Antifa, Kurd, PKK, ISIS, and YPG groups witnessed throughout Greater Syria engaged in the death and desolation of it's people for the past two decades while openly defended by the U.N. and other fake and hostile human rights groups.
Why would Conservatives conceal this revelation if not to hide the truth that Mr. West carries [as his cross] in his personal pursuit for faith and justice in the name of Jesus Christ?
Will justice be served for the millions of children disappeared in America every decade; presumably by Satanic pedophile Hollywood elites engaging in Satanist blood-ritual-sacrifice involving the rape and murder of America's brightest and most innocent?
Who will defend the cause of the Christian, even our chief musicians like Kanye West, if the Christian is so few their mortal flesh is persecuted for their ideas of declaring justice upon the head of the wicked?